Hello readers! Time for another author post. Hope you're not disappointed it's not L.M. Montgomery, Naomi :) but I picked Jane Austen today. She's my #1 favourite classic fiction writer (beating Victor Hugo and Charles Dickens by a tiny bit) and I've researched her life quite a lot. I feel like I know her pretty well; that we would have been good friends if we lived in the same era. Anyway, here's a list of her major works (I won't talk about her juvenilia today, that deserves a post of its own).
Sense and Sensibility
Jane Austen's first published work when it appeared in 1811 under the pseudonym "A Lady". A work of romantic fiction, better known as a comedy of manners,
Sense and Sensibility
is set
between 1792 and 1797,
and portrays the life and loves of the Dashwood sisters, Elinor
and Marianne.
The novel follows the young ladies to their new home, a meagre cottage on a distant relative's property, where they experience love, romance and heartbreak. The philosophical resolution of the novel is ambiguous: the reader must decide whether sense and sensibility have truly merged. (wikipedia)
was first published in 1813. The story follows the main character,

Elizabeth Bennet

, as she deals with issues of m

anners

, upbringing, m

orality

, e

ducation

, and marriage

in the society of the landed

gentry

of early nineteenth-century England, El

izabeth is the second of five daughters of a country gentleman living near the fictional town of Meryton in Hertfordshire. (wikipedia)
When Mr. Bingley and Mr. Darcy arrive in Meryton, Elizabeth's mother id determined to marry her daughters off to them. However, Elizabeth takes an instant dislike to the proud Mr. Darcy and lets her own prejudices cloud her judgment.
Fanny Price is brought up by her rich uncle and aunt of Mansfield Park. As she grows up, she is treated as inferior by most of her relatives except her uncle and cousin Edmund, with whom she gradually falls in love. However, when the smart brother and sister Henry and Mary Crawford arrive in the town, Fanny is worried that Edmund is falling in love with the unprincipled Mary.
Emma is the story of a clever, rich and handsome young woman with a habit of match-making that often gets her into trouble. Her efforts to match her friend Harriet with the two-faced Mr. Elton go disastrously wrong, and Emma herself does not realize that she is falling in love with family friend Mr. Knightley until it is too late.
Persuasion
This is the story of Anne Elliott, a twenty-seven-year-old woman who has remained unmarried since refusing to marry Captain Wentworth, persuaded by her aunt. Anne and Wentworth meet again and though Anne suspects he is in love with Louisa Musgrove until he writes to her reaffirming his attachment to her.
Northanger Abbey
Catherine Morland, young and naive, is about to embark on a trip to Bath with friends. There she meets the fashionable but deceitful Isabella Thorpe and the charming Henry Tilney. Isabella encourages her to read Gothic novels, and Catherine's imagination begins to run wild when she is invited to stay with Henry, his sister and father at their ancestral home, Northanger Abbey.
Jane Austen was born on the 16th December, 1775, at Steventon in Hampshire. She was the seventh child and one of two daughters. She was very close to her sister Cassandra: her brothers married and left home, and the two sisters lived with their widowed mother. She was very clever as a child, allowed the run of her father's library, was well educated, and had a quick wit. As a girl she wrote plays and stories, and her parents encouraged her in her writing. She never married, although she received several proposals. She was a devout Christian and critical of the social customs of her time. She died at the age of 41 in Winchester. While some of her works were published during her lifetime, she experienced little fame as she concealed her name, and several of her works were published posthumously.
Jane Austen was a brilliant and perceptive writer. What I love about her style is that it's fairly easy to read for a nineteenth-century writer. She has complete control over her characters. She successfully rounds them out as well, making them real and believable, and convincing the reader that her world wasn't so different from ours after all. She also has some really memorable quotes:)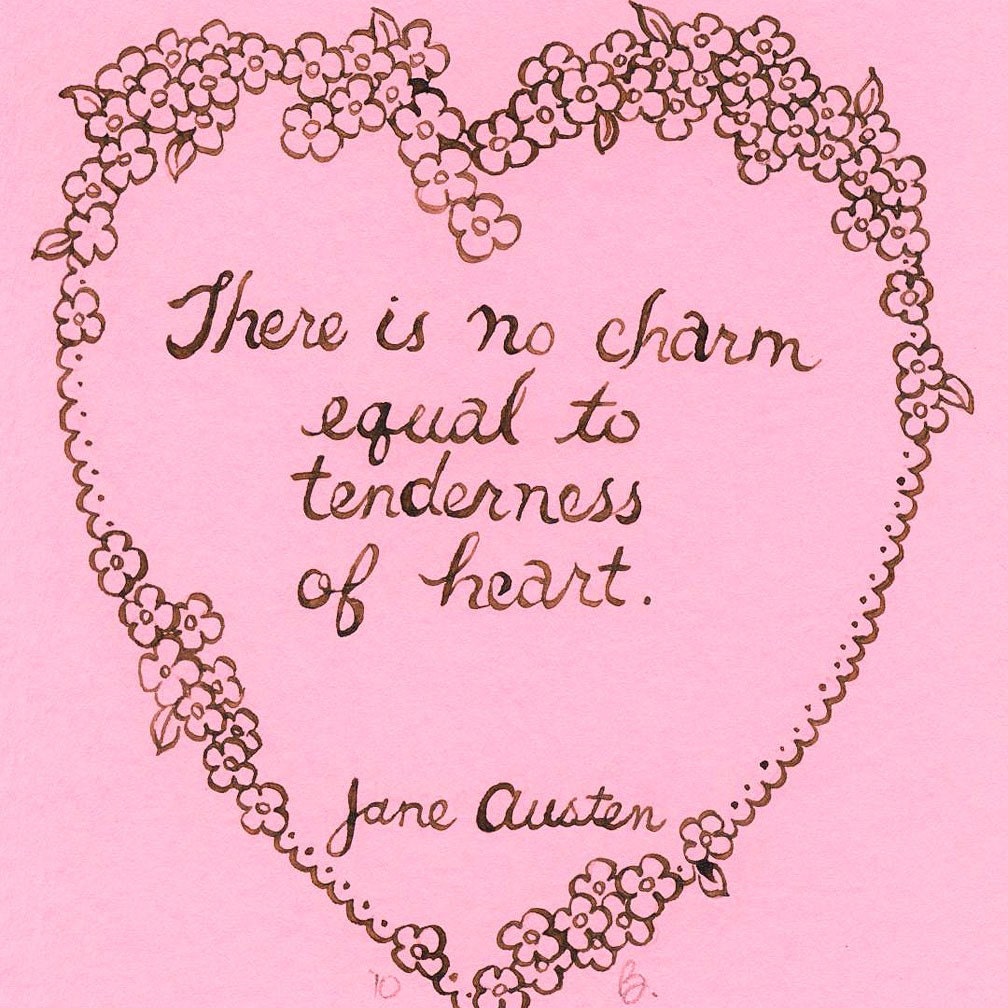 She's also really good for a laugh. Ie: Mr. Collins, Mrs. Allen, Harriet Smith, Mrs. Jennings, Mrs. Norris....and lots of characters you love to hate:)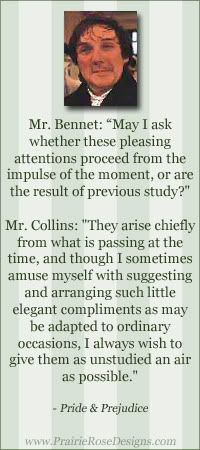 "Is it a mermaid? or a shark?"
If you've never read Jane Austen, you don't know what you're missing. All six of her books are sweet, funny, a little bit sad and practically perfect in every way. She has inspired me to write in a way that deals truthfully and impartially with the characters and that upholds good values. And there are certain words and old English spellings I've become addicted to too.. Anyway, enough of that. Just grab a copy of Pride and Prejudice and you'll see what I mean:)